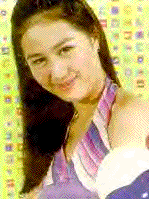 REAL NAME: Angelene Nina Mendoza Coronel
AGE: 13 years old
BIRTHDAY: July 15, 1989
Dream boy: She gets easily attracted to a boy who has beautiful smile.
Must know: Angelene has a small dark mole on her right leg.
Romantic: One romantic thing she did was when... "My crush and I had a nice talk in a small cottage in school."
Music: She took guitar lessons at an early age.
Grades: She receives 'A' grades in Behaviour class. "Just do it," her fave line in bold words.
Dream: She dreamed once that her crush hugged and kissed her on the cheek.
Crush: She goes gaga over JERICHO ROSALES.
Fights: Because of her constant teasing with a bestfriend, they ended up in a quarrel.
Room care: She's sometimes messy, sometimes neat with her room. It depends on the mood.
Interesting: Still sleepy and dizzy she slipped and fell while going down the stairs of a van on her way to a shoot.
Embarrasing moment: Bystanders saw this humiliating accident, she was really embarrassed!
Mom or Dad: She's a daddy's girl pa rin.
Sleeps with: Only sleeps when she snuggles cuddly teddy and soft pillows.
Singers: She's a great fan of CHRISTINA AGUILERA, BRITNEY SPEARS and SHIMOLI...
Food: She goes goo goo eyes with 'kare-kare,'
Friends: She loves stargazing with Johanna (friend) on a rooftop.